Your Income Makes the Life You Enjoy Possible
What happens if you're unable to work due to a disabiling injury or a prolonged illness? How long do you think you could maintain your current lifestyle without earning an income?
One less "what if?"
While we can't predict the unexpected, we can prepare for it. Disability Income (DI) insurance replaces a portion of your income when you're too sick or injured to work.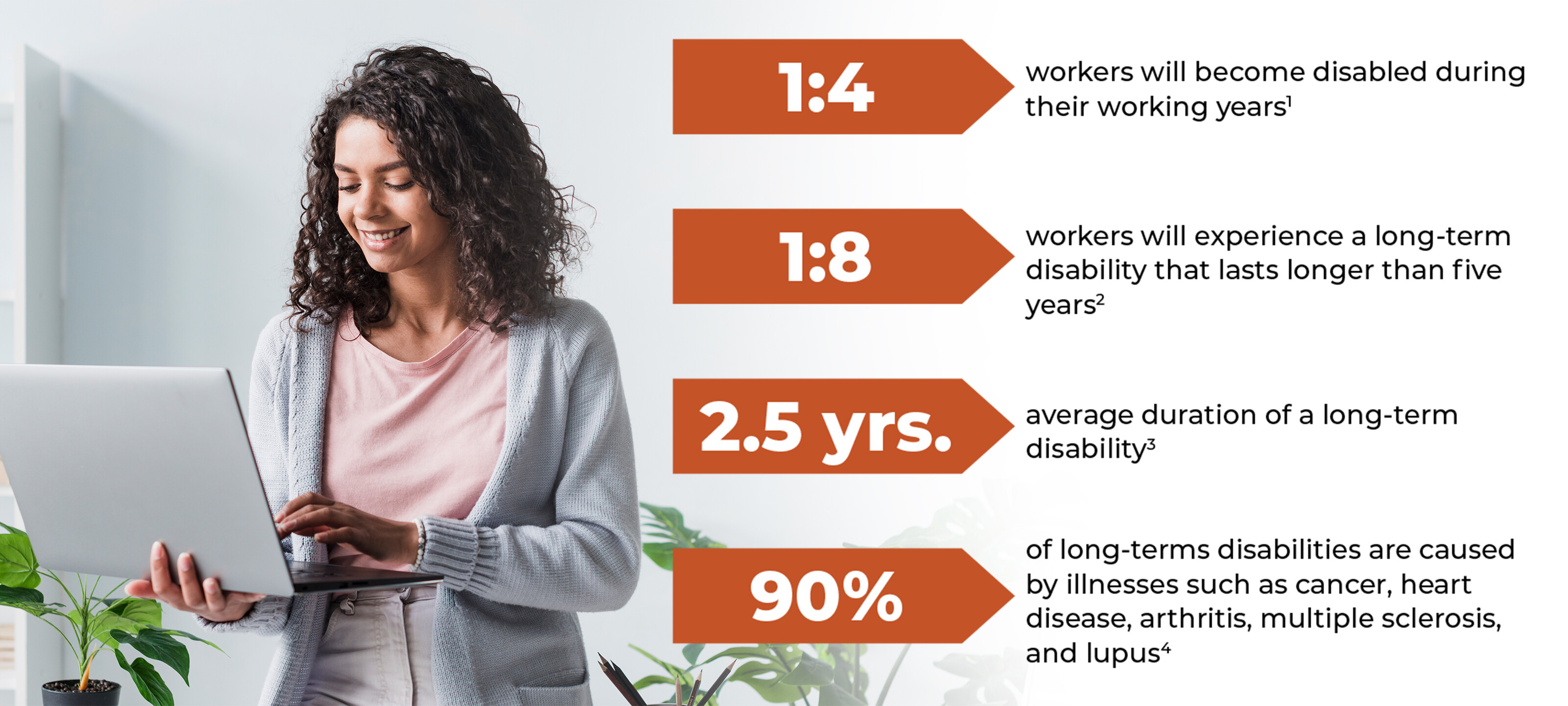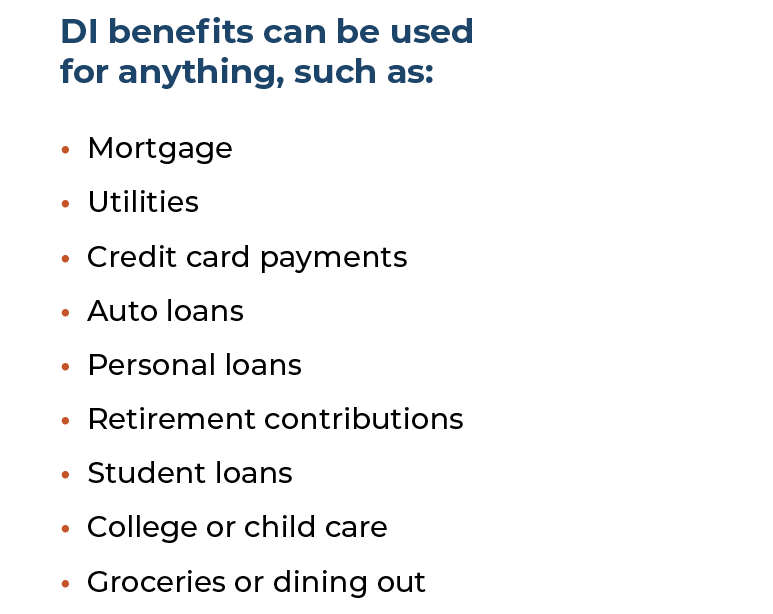 1Social Security Administration Fact Sheet, December 2019
2Commissioner's Disability Insurance Tables A and C, assuming equal weights by gender and occupation class
32011 Gen Re U.S. Individual DI Risk Management Survey
4Source: Integrated Benefits Institute, 2018 Health and Productivity Benchmarking, Long-Term Disability
Disability income insurance replaces your income -- and helps you maintain financial health.
Understanding How a Policy Works
Asking the right questions can help you evaluate the quality of a disability insurance policy -- and how it can support your specific need, now and in the future.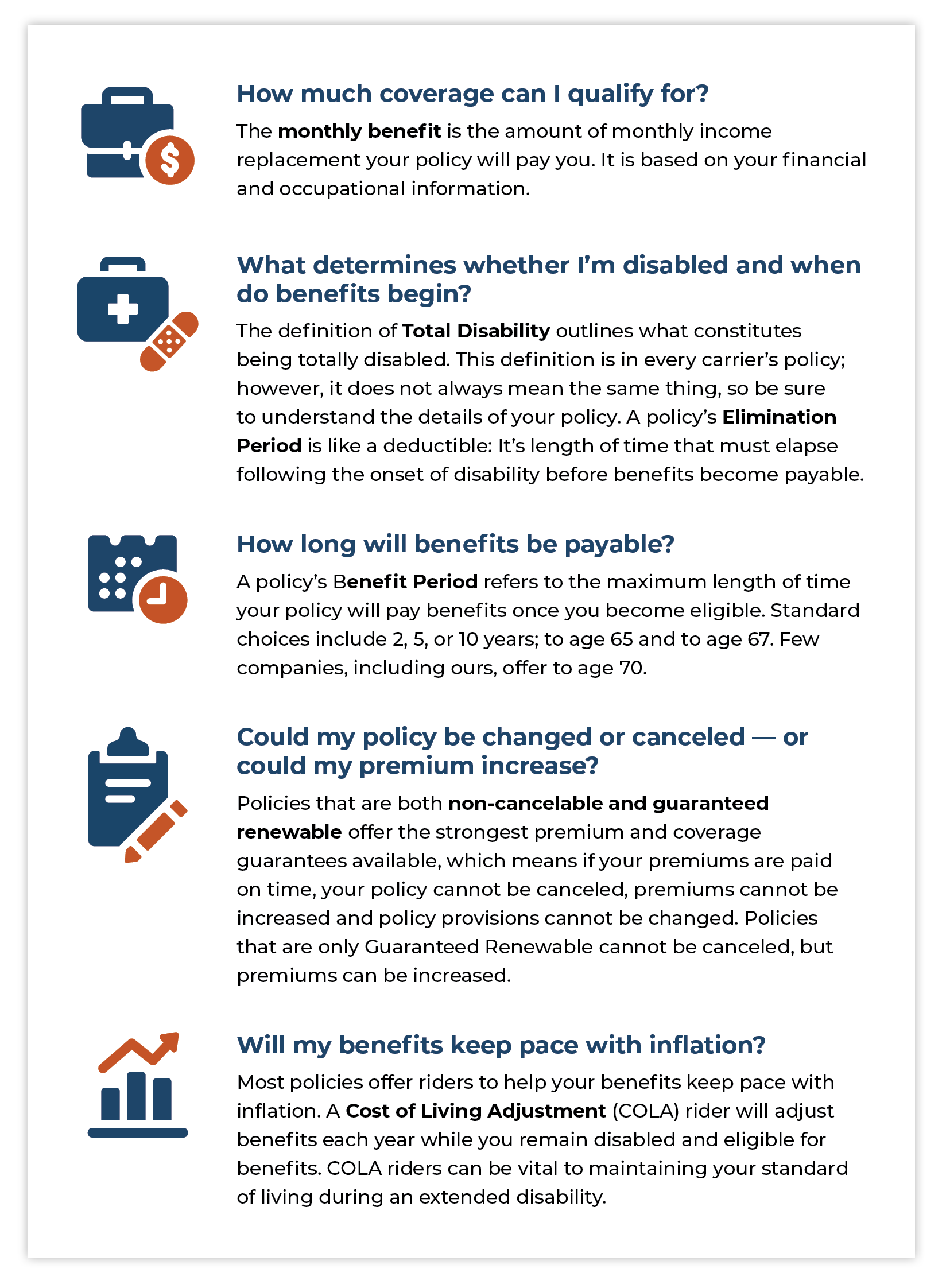 Provider Choice
Designed for value and built for flexibility so that you can live more confidently -- on your terms.
One size does not fit all, particularly when it comes to protecting income. The best policy isn't necessarily the one loaded with every feature available. It is often the one that is tailored to your needs. Provider Choice offers deep value and comprehensive coverage in its base policy (one of the strongest in the industry), then allows you the opportunity to add flexible options to further personalize your coverage.
Our strong base policy:
Five-Year Waiver of Elimination Period
This feature is not offered anywhere else!
If you suffer a disability that lasts more than six months and we pay benefits, we'll waive the elimination period for any subsequent disability of 30 days or more that occurs within five years — regardless of the cause.
Hospice Care Benefit
If you're admitted into a qualified hospice program, we'll consider you to be totally disabled (eligible for benefits), plus we'll waive the policy elimination period, so you can receive benefits sooner.
Presumptive Total Disability Benefit
This is designed to protect against severe disabilities, such as the total and complete loss of hearing, speech, sight in both eyes, or the use of any two limbs. We would consider you to be totally disabled and waive the elimination period even if you're still able to work. Unlike most other insurance companies, our Presumptive Total Disability Benefit is payable even if the loss is recoverable, meaning that the loss does not have to be permanent for you to qualify for this benefit.
Exclusive Waiver of Premium
We'll waive any premiums due while you're disabled and receiving benefits. And unlike most other insurance companies, we'll continue to waive them for six months after you recover and benefits end.
Serious Illness Supplemental Benefit Endorsement*
If you become totally disabled from cancer, a stroke, or a heart attack, we'll pay an additional 50% of your monthly benefit above and beyond your regular monthly benefit for up to 12 months over the life of your policy.
Occupational Rehabilitation and Modification and Access Benefit Endorsement*
This benefit can pay for occupational rehabilitation expenses plus the cost of modifications to your work environment to accommodate physical limitations.